Singapore may be one of the most expensive countries to visit in Southeast Asia, but there are plenty of free things to see and do to ease the pressure on your wallet.
Be sure to bring a camera, sunscreen, and extra water as the walk can get quite long.
Here's a list of 7 free activities to do when in Singapore!
Take A Walk on Singapore's Highest Pedestrian Walk
You don't have to pay a penny to enjoy a stroll along the Henderson Waves. Cyclers can even bring out their bikes and enjoy the breeze at this pedestrian walk. Avid birdwatchers can also be seen here enjoying their time spotting exotic birds.
Explore the MacRitchie Reservoir Park

Whoever said there's no lush greenery in Singapore has never been to MacRitchie. Hike along the suspension Treetop Walk that soars above the rainforest canopy.
But for those afraid of heights, just stroll along Reservoir Park and enjoy the impressive greenery in the city of Singapore impressive garden.
Marvel at South East Asia's Largest Light & Water Show
The 15-minute multimedia show Spectra uses laser, light, music, water movements and visual images to display a free-to-public outdoor light and water show displayed over the water at the Event Plaza along the promenade.
Discover Sungei Buloh Wetland Reserve
Have a swampy good time at this Reserve which boasts a variety of bird species and wildlife creatures. If you're an avid bird-watcher, visit this place and spot rare birds that frequently flock here. If luck is on your side, you might even spot crocodiles and otters!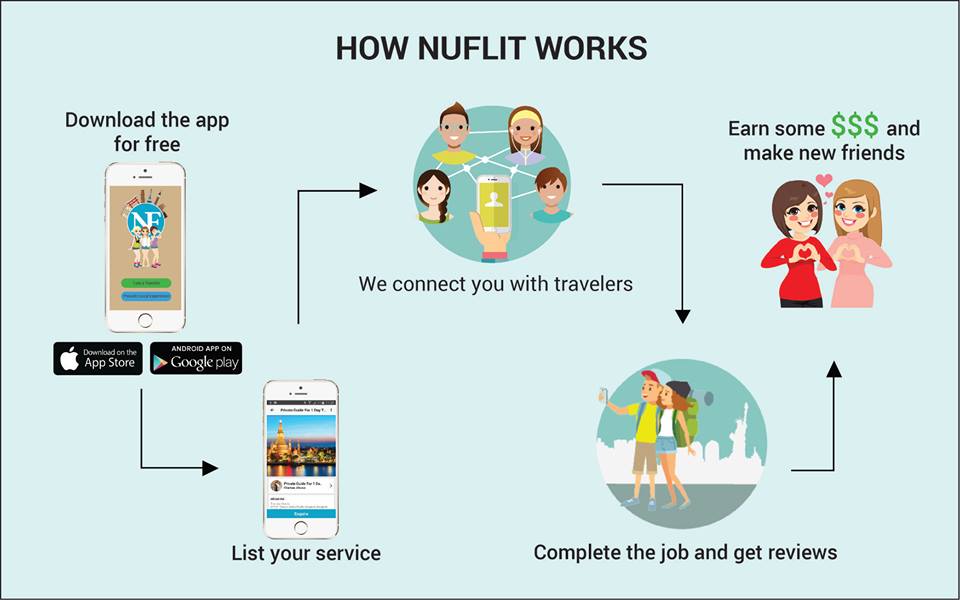 Take a Walk along the Southern Ridges
The Southern Ridges offers panoramic views of both the natural and urban parts of Singapore. Take a walk and enjoy the greenery and fresh air. The trail is not too difficult and most part of the path is accessible to families with young kids.
Tour a Farm in The City
Visit and feed the goats at Hay Dairies for free and get up close with them. Although you'll have to purchase the animal feed at a small cost, entrance is free.
Witness a love story between 2 Cranes
Witness a love story between a pair of mechanical cranes with the help of ground-breaking audio visual technologies infused from a stunning light and water effect. Free admission at the Waterfront, Resorts World starting at 8pm.
So the next time you're packing your bag to go to Singapore, there are three things you should not forget! Your passport, your camera and a local guide to help you around Singapore. Download the Mobile app www.nuflit.com/app to find locals to help you with your travelling.
Below are some locals who can bring you around Singapore. Tap the image below or www.nuflit.com/d/singapore to find out more!
BLOG COMMENTS POWERED BY DISQUS